How the series unfolded
Monday, February 7th, 2011
Here's what prompted us to begin America: What Went Wrong? in 1990: Factories that had made products for a century were closing. Wall Street was assembling companies and then taking them apart as if they were Lego blocks. Independent retailers that had been bulwarks of their communities were disappearing under mountains of debt.
At first we wanted to know only one thing: What had happened to the men and women who worked for these companies? Did they, as many economists maintained, find other jobs to replace the jobs they had lost? And if so, how did the new jobs compare to the old? What did they pay? What kinds of benefits did they provide?
It didn't take long to identify scores of once-solid companies that had gone under or were in trouble. Then we began to seek out former employees. We found some names in bankruptcy court records. Others turned up in Labor Department filings. Still other names showed up in news stories published in hometown newspapers when a local plant closed. Working separately, we began to interview people across the country: While one of us spoke with a mid-level manager in Missouri, the other met with a factory worker in Pennsylvania. One of us would travel to California to interview a lumber worker, the other would talk to a department store employee in West Virginia.
When we exchanged the notes of our interviews, we came to an astonishing conclusion. Though the men and women we talked with had worked in many industries and were separated by thousands of miles, their stories were remarkably similar. Those who had found work earned less than before. Their new jobs had fewer benefits, if any. Some of them had been forced to sacrifice part of their pensions to hold onto at least minimal health-care benefits. They all saw their retirement as endangered. And all of them felt betrayed: They had worked hard and played by the rules, and now, through no fault of their own, they were being cast aside.
As compelling as these stories were, we wanted to make sure that they reflected broad trends. We collected tax, trade and economic data measuring family income, taxes, job losses and other key indicators. These showed how longtime corporate tax breaks had been used to drive down wages and export jobs. They also showed how the tax burden had been shifted from corporations to individuals. Most tellingly, the data showed that for the first time, the middle class was shrinking.
With the data confirming the human stories, we began to see that this was a much bigger story. A way of life for millions of middle-class Americans was imperiled. The American dream was at risk.
Through the summer and early fall of 1991, as we began to write the story, we realized that we were dealing with a much larger mass of material than our newspaper, the Philadelphia Inquirer, customarily published. Even though the paper was legendary for its commitment to in-depth reports in series form, our story was shaping up to be very long.
Most series were published in the Inquirer for no more than seven continuous days. Yet the material we had assembled was so extensive, and the human stories so compelling, that we felt that this story could not be told in just one week.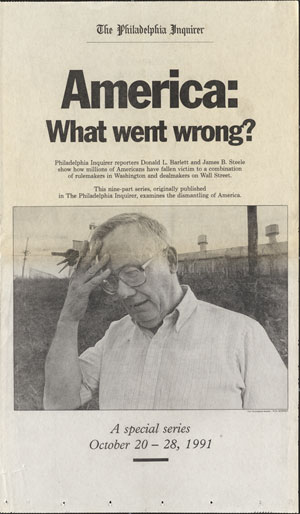 Maxwell King, the Inquirer's editor, who had been instrumental in helping to shape the work, decided to publish the series in nine parts. This was a gutsy, unprecedented decision. Those parts totaled 70,000 words — more than many books — and no one was certain that readers would welcome a report of that length.
The first article, "Dismantling the Middle Class," was published on Sunday, Oct. 20, 1991. The skeleton crew staffing the Inquirer's phones that morning were overwhelmed by calls from residents all over metropolitan Philadelphia. Readers rushed to newsstands to buy extra copies. The circulation department reported that virtually every available single copy was sold that day.
Over the next eight days, as subsequent parts of the series were published, the demand for the story was so intense that the newspaper increased the daily press run, but still could not keep up with demand. The Inquirer promised to make a reprint available the day after the series concluded.
After the ninth article was published, the Inquirer printed 15,000 reprints of the series to be given away to readers the next day at the newspaper's office in downtown Philadelphia. Early the next morning hundreds of people waiting to get a copy formed a line that wound around the building. The entire supply was quickly exhausted. In the days that followed, similar scenes would occur as the newspaper repeatedly went back to press to try to satisfy demand. "In my 25 years in journalism, I have never seen anything like this," Inquirer editor King remarked at the time.
In the meantime, the series went out over the wire and newspapers across the nation published versions that ignited similar reactions in their areas. The (Portland) Oregonian noted that the "reaction from readers was much stronger than the norm for a business story." An Oregonian reporter who covered the local reaction said readers called to say "this is my story as well." Similarly, the Miami Herald was flooded with calls from readers such as a Miami woman who said, "All this time I had felt as if I was doing something wrong that makes it harder to make ends meet. Everything looks so dismal, and I could not understand why. The series cleared up a lot for me."
In Philadelphia, thousands of letters poured into the Inquirer praising the series or seeking a reprint. The newspaper constantly struggled with the reprint demand, eventually running off half a million copies.
With interest still strong, we decided to publish the series as a paperback book. In April 1992, supplemented by additional material, the work was published by Andrews & McMeel as a trade paperback. It quickly became a New York Times best-seller and rose to number one on its list four weeks later. It remained a best-seller for eight months.
Although the book had its critics (the Wall Street Journal once attacked us in a lead editorial as economic populists), it was widely praised. Typical was this from the Chicago Sun-Times: "Once or twice in a generation, the American people are jolted by a book that helps bring about major change. America: What Went Wrong ... is a monumental achievement ... a book that is likely to make a difference. Every American voter ought to give it a careful reading."
That same year, Bill Moyers devoted two hourly specials to telling the story as part of his PBS series, "Listening to America." Member PBS stations across the country re-ran the segments often. We were deluged with speaking requests and were interviewed on hundreds of radio and television programs.
America: What Went Wrong? also became a touchstone for debate during the 1992 presidential race. Candidates Bill Clinton, Jerry Brown and Ross Perot all waved copies of the book or articles aloft or quoted them in speeches about the plight of middle-class Americans.
Since then, the book has continued to influence discussion about the country's direction and the plight of the middle class. In 1999, New York University selected America: What Went Wrong? as one of the 100 greatest works of journalism in the 20th century. Teachers at universities and colleges across America have made it required reading for a wide range of courses, including sociology, law, political science, history, social work and journalism.